As we are in the final weeks before the Hillhead 2014 show the excitement is at near bursting point as the time is almost here when the SCG team, and the world get to lay eyes upon the eagerly awaited Bruce WashPod.
What is a WashPod?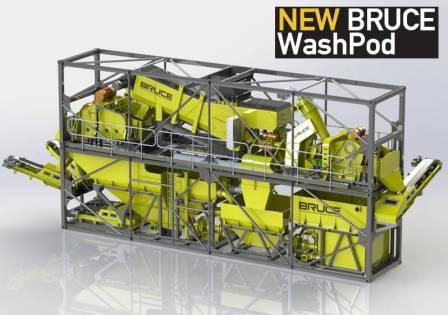 Well it scrubs, washes and separates and it only has the footprint of a 40ft container!!
With the New WashPod, Aggregate Scrubbing, Trash Removal, Aggregate Rinsing/Sizing & Sand Production are all on one simple chasis, compatible with any mobile screen or crusher.
Finding a problem, providing the solution.
Since the successful global launch of their recycling range, the team at Bruce have listened carefully to the aggregates recycling industry.
Traditionally, decision makers in the industry have been discouraged from introducing a washing process into their already multi-faceted businesses because of four main factors;
1. Capital Outlay
Often, traditional aggregate washplants have purchase budget costs measured in millions which, even for directors of established companies can be viewed as a risk too far to introduce a new and some cases experimental process. Now, the decision to move into aggregate washing is not so substantial.
2. Static Nature of Plant
Even with existing so called "mobile" or "modular" systems set up times can commonly run into weeks and when they are installed they require considerable site input in terms of civil engineering and planning compliance. The reverse is true as well – once the plant is in and running it is a huge upheaval to move it to another location.
The WashPod only requires two standard twist lock trailers to be mobile.
3. Size of Plant
In many cases companies simply haven't had the room to consider washing. With footprint of a shipping container, excluding ancillary equipment The WashPod opens up the possibility to most sites.
4. Complexity of Operation
Using The WashPod production of two aggregates and one or two sand products has been made simple with a clear and accessible operator interface.
With plug and play operation, easy transport options, and compatibility with Bruce's range of silt management solutions your company could be self-sufficient in concrete aggregates in the very near future.
One of the first WashPods has already been purchased by Barr Quarries Ltd, Scotland. Operating from 12 sites in south west Scotland, Barr Quarries provides a wide range of heavy side construction materials including asphalt, concrete, stone, sand and gravel, recycled construction materials, and soils. Barr had identified a need for a compact washing plant and when Bruce unveiled their New innovative design, the Bruce WashPod was exactly what they needed. Barr Quarries are extremely excited about their New Bruce WashPod and Colin Morrow (Director, Barr Quarries Ltd) quoted "we believe its mobility is a real plus, enabling us to set up quickly, wash, and move on to the next site without the normal high transport costs and we will use this equipment to continue to deliver benefit to our customers in the markets we serve".

SCG Supplies are proud and delighted to be the UK Dealer for Bruce engineering, and to join in their celebrations of 55 years in business.
After you have made your visit to the SCG stand at Hillhead, make sure and visit the team from Bruce at Stand C24 to be part of the global launch of the WashPod.
For further information contact us on 0845 257 6500, or email paul@scgsupplies.co.uk